Jo Dunnick Watercolors
Contact Jo
PURCHASING INFORMATION:If you have any questions regarding purchasing a specific piece located in one of the galleries, contact me at jodunnick@riousa.com.
Please include the following along with your email:
First and last name
Contact phone number
Email address
Title of the print or original painting
I will contact you as soon as possible with information on shipping and payment options.
COMMISSION INFORMATION: If you are interested in commissioning an original watercolor, please contact me and I will be happy to explore the possibility of creating a unique work of art to fit your request.
WORKSHOP INFORMATION: Dates will be listed on the NEWS section. For more information, please contact the Emerald Art Center, Springfield, Oregon or contact me at jodunnick@riousa.com.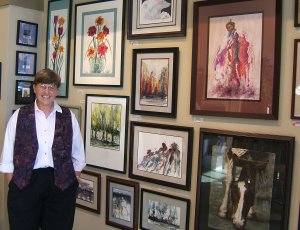 Mail:
Jo Dunnick
82295 Rattlesnake Rd.
Dexter, Oregon 97431
Phone: 541-937-3641
Email: jodunnick@riousa.com